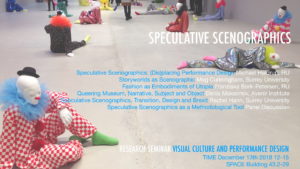 Visual Culture and Performance Design Seminar
December 13th 2018
By Michael Haldrup
In December 2018 20 people, students, researchers, activists and performers  gathered at Performance Design in order to explore the notion of "Speculative Scenographics" as a way of approaching cultural and social research. The seminar took its outset in discussions among participants of the 3rd International Performance Design Symposium held in Fara Sabina, a small town on a mountain hill outside Rome in Italy (see "Performing Institutions" below), where a central theme was to reflect on Performance Design as a practice and discipline inside/outside its institutional setting in universities, theatres and museums.
As a term "Speculative Scenographics" draw together ideas from critical and speculative design on material spaces and objects as active interventions in making worlds and critically reflecting on alternative worlds (Dunne and Raby 2014) as well as dramaturgical and scenographical notions of staging that "operates beyond the institutional remit of the theatre" (Hann 2019); hence orients, irritates, highlights, reveals and indeed make worlds. In doing this the notion plays with issues of futurity and futurability (see entry below, inaugural lecture on "futurability" ) as potentials that, in principle are immanent everywhere (Haldrup 2017).
In his introduction Michael Haldrup framed speculative scenographics as a generic term using examples from urban activism, museum design and contemporary popular (counter)culture . Meg Cunningham, Surrey University, GB  demonstrated the usefulness of the idea to explore the making of of Zombie worlds and events as part of contemporary cultural consumption. Franziska Bork-Petersen explored the potentially of "embodied utopias" in relation to fashion culture and history. From the perspective of a performance artist Denis Maksimov, Avenir Institute GB/Greece, discussed the potentialities of speculative scenographics for "queering" and destabilizing narratives of European mythography. Finally, Rachel Hann, Surrey University, GB conceptually summed up the values of thinking beyond the theatre through the notion of speculative scenographics through an analysis of transition, design and Brexit.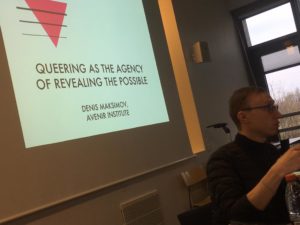 Denis Maksimov on queering European futures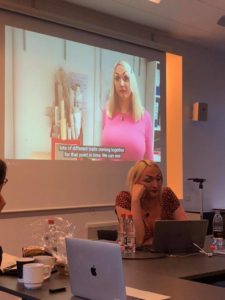 Rachel Hann on scenographics as world-making
All in all the seminar raised exciting discussions on the value of combining established theatrical concepts as a way of understanding and intervening with domains 'outside the theatre' – from theme parks, heritage, urban space, fashion culture and even further. At the Visual Culture and Performance Design Research Group at Roskilde University we look forward to explore this with our international colleagues even further in the years to come.
References
Dunne, A. and Raby, F.  2014. Speculative Everything. Design, Fiction and Social Dreaming, Cambridge, Mass.: MIT Press
Haldrup, M. 2017.Futures. Speculations on Time, Design and Thinking. Oslo: NORDES no. 17.
Hann, R. 2019; Beyond Scenography, London: Routledge