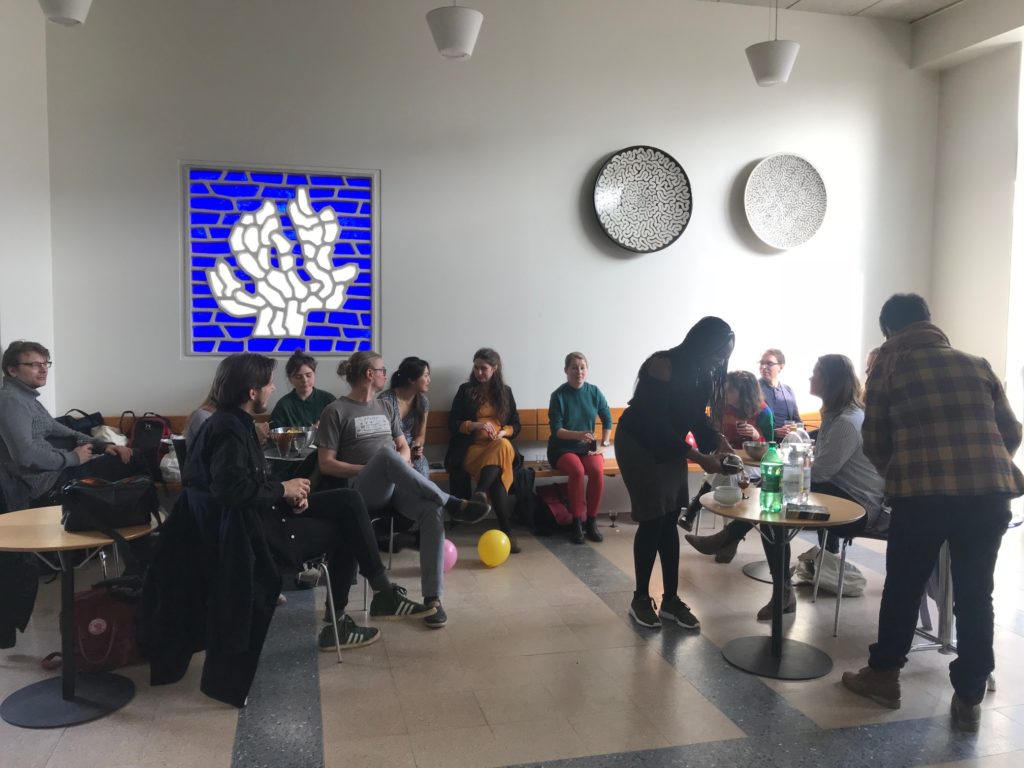 (foto: Connie Svabo)
I tirsdags havde jeg den store og også sjældne fornøjelse at være i selskab med repræsentanter for hele 'fødekæden' af performance-designere, da vi fejrede de nye færdige kandidater i Performance-design. Blandt de deltagende i dimissions-arrangementet var – udover dagens hovedpersoner, dimittenderne – såvel fagmodulstuderende, som kommende og igangværende specialestuderende, undervisere og kandidater, der har nogle år på bagen som aktive på arbejdsmarkedet. Det blev til en inspirerende udveksling af erfaringer og faglige perspektiver:
Maria Beydin og Linh Tuyet Le, som begge har afsluttet deres uddannelse inden for de seneste måneder, fortalte om deres specialearbejde. Maria gjorde os klogere på 'immersive museumsudstillinger' og deres (manglende) interesse i at medtænke brugen af skriftlige formidling i sådanne sanselige og opslugende koncepter. Samtidig beskrev hun valget af specialeemne som både interessebåret og som et resultat af et målrettet arbejde med at skabe sin egen faglige niche, i dette tilfælde naturvidenskabelig museumsformidling. Linh beskrev, hvordan hendes speciale udsprang af hendes egen praksis som danser, og hvordan udviklingen af bhuto-inspireret durational performance i det københavnske byrum var omdrejningspunktet for specialets analyse og refleksion. Nederst kan I læse mere om de to specialer.
Derefter havde både Henriette Østergaard Hansen og Vinnie Møller Johansen sagt ja til at komme tilbage til RUC for første gang, siden de blev kandidater for at fortælle os om deres nuværende arbejdspladser og erfaringer med at være i arbejde som Performance-designere. Begge blev de færdige i juni 2016, og begge fortalte både om deres vej til en fast stilling og om de konkrete arbejdsopgaver, de sidder med nu, og hvordan de bruger Performance-designuddannelsens elementer på forskellig vis. Henriette, der er kandidat i Performance design og kommunikation er kommunikationskonsulent i Københavns Kommunes Teknik- og Miljøforvaltning, hvor hun bl.a. står for lancering af forvaltningens mange forskellige byrums-initiativer og i den sammenhæng har ansvar for konkret event-planlægning og afvikling. Vinnie, der kombinerede PD med pædagogik og udviklingsstudier, arbejder som forsknings- og udviklingskonsulent på Københavns Professionshøjskole – hvor hun også havde studiejob – og hun står bl.a. for hjælpe alle ph.d.-interesserede igennem processen fra ide til ansøgning og med ansvaret for interne såvel som eksterne forskningsformidlingsarrangementer.

Som studieleder havde jeg fået den skønne opgave at holde en lille tale og overrække en rekvisit til kandidaterne, som de kunne tage med sig videre ud i verden. Og således gik vi alle inspirerede hjem fra RUC på en forårsdag i april, og vi glæder os til sammen at fejre de næste PD-kandidater i oktober 2018. Stor tak til Anita fra fagudvalget, som stod for planlæging af arrangementet. Vi holder også det kommende arrangement samme dag, som vi holder opstartsseminaret for kommende PD-specialestuderende.
Om Marias speciale: "At​ ​dykke​ ​ned​ ​i​ ​en​ ​anden​ ​virkelighed:​ ​En​ ​undersøgelse​ ​af​ ​immersion​ ​i​ ​tekst​ ​og​ ​tekstens​ ​rolle​ ​i immersive​ ​udstillinger​ ​på​ ​naturhistoriske​ ​museer"
Engelsk resume: The purpose of this​ ​thesis​ ​is​ ​to​ ​contribute​ ​to​ ​the​ ​understanding​ ​of​ ​the​ ​possible​ ​role of​ ​exhibition​ ​texts​ ​in​ ​relation​ ​to​ ​the​ ​experience​ ​of​ ​immersion​ ​in​​ ​immersive exhibitions at museums of natural history,​ ​as​ ​well​ ​as​ ​the​ ​understanding​ ​of​ ​how​ ​the​ ​theory​ ​on​ ​immersion​ ​in​ ​text can​ ​be​ ​used​ ​to​ ​examine​ ​these​ ​exhibitions.​ ​I​ ​base​ ​the​ ​thesis​ ​on​ ​a​ ​​research​ ​approach understanding​ ​all​ ​artefacts​ ​as​ ​performative​ ​actors​ ​that​ ​affect​ ​and​ ​are​ ​affected​ ​by​ ​each other​ ​and​ ​can​ ​be​ ​examined​ ​through​ ​their​ ​interactions.​ ​I​ ​use​ ​autoethnography,​ ​coding, categorizing​ ​and​ ​performative​ ​writing​ ​as​ ​methods​ ​for​ ​collecting,​ ​condensing​ ​and communicating​ ​empirical​ ​data.
Using​ ​theory​ ​on​ ​immersive​ ​exhibitions​ ​and​ ​immersion​ ​in​ ​text,​ ​I​ ​design​ ​two​ ​models​ ​for analysis​ ​of​ ​the​ ​exhibitions​ ​​Cocoon​,​ ​Natural​ ​History​ ​Museum​ ​in​ ​London,​ ​and​ ​​Evolution​, Natural​ ​History​ ​Museum​ ​of​ ​Denmark.​ ​Through​ ​an​ ​analysis​ ​of​ ​both​ ​museums​ ​I​ ​find​ ​that the​ ​exhibition​ ​texts​ ​have​ ​the​ ​potential​ ​to​ ​both​ ​strenghten​ ​and​ ​weaken​ ​the​ ​experience of​ ​immersion​ ​in​ ​different​ ​ways,​ ​but​ ​specifically​ ​through​ ​creating​ ​a​ ​meaningful, coherent​ ​whole,​ ​dramatizing​ ​the​ ​content​ ​of​ ​the​ ​exhibition​ ​and​ ​creating​ ​a​ ​narrative process.​ ​I​ ​conclude​ ​that​ ​the​ ​concept​ ​of​ ​the​ ​narrative​ ​process,​ ​together​ ​with​ ​concepts from​ ​the​ ​theory​ ​of​ ​immersion,​ ​can​ ​be​ ​used​ ​as​ ​an​ ​extension​ ​to​ ​the​ ​theory​ ​on​ ​immersive exhibitions ​​which ​​can ​​concretize​​ the ​effects of ​​specific ​​elements ​​of ​​the ​​exhibitions ​​as well​ ​as​ ​widening​ ​the​ ​understanding​ ​of​ ​the​ ​particular​ ​experience​ ​of​ ​immersion​ ​in immersive​ ​exhibitions
Om Linhs speciale: "Et øjebliks singularitet: Undersøgelse af dansen som frigørende i det urbane rum gennem butoh-inspireret dans".
Engelsk resume: In my thesis, I explore the potential of dance as liberating in correlation with the human relationship to urban spaces. Along with two other performers, I explore the city of Copenhagen through a butoh-inspired performance. Butoh is a Japanese dance form dating back to the 1950s, composed of elements moving hyper-slowly and abandoning the self: meaning moving away from the normative ideas of being a human and instead transforming oneself into one's unconscious self. Drawing elements from butoh, I search to awaken my unconscious self and to move hyper-slowly in order to explore what emerges in my meeting with the city and in the situated. I am concerned with the following matters: Is it possible to undo the choreographed life and change the refrain through butoh-inspired dance? Most importantly: Henceforth, how can we practice in moving freely?
My approach to the field is viewed from a phenomenological perspective defined respectively by Edmund Husserl and Maurice Merleau-Ponty, with the notion that the relation between subject and the world is closely knitted. Alongside this rationality, I use autoetnography as my method when inhabiting the world and exploring movement and the multisensory environment.
In my analysis, I explore when and how I experience the urban space of Copenhagen as liberating or constrained when performing throughout the city through butoh-inspired dance.
I draw theories about dance as affirmative and liberating. Here, I refer to theories from dance theoretician André Lepecki's ideas about the potential of dance as a singularity, and its potential to break free from the conditioned and choreographed life. As a supplement to Lepecki's theories, I discuss Erin Manning's theory about preacceleration and the potential in movement before actualization of the movement itself.  Furthermore, I discuss the body's capacity as power and possibility.
In conclusion, I determine that the immense potential in dance lies within bodies' capacity to not only get affected but also affect other bodies and produce new refrains for everyday practices, movements, and experiences.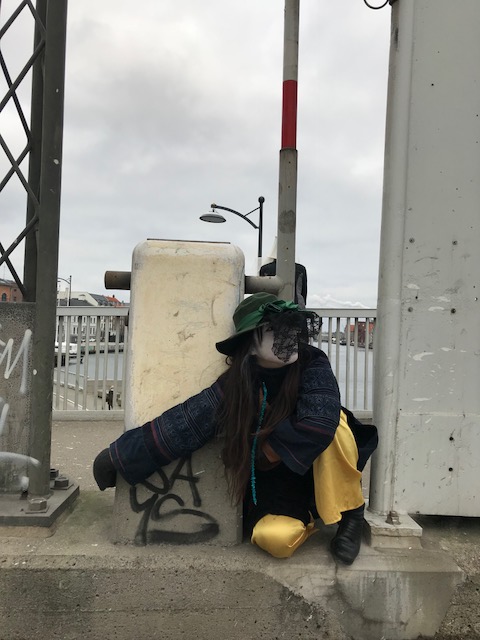 (Foto fra Linhs performance)