Af Nikolaj Hollænder & Simone Bøgelund Rasmussen
Vores eksamensfremvisning tog udgangspunkt i turisme i Venedig. Særligt den turistgruppe der oplever byen gennem kameraet. Dem som tager selfies og billeder af bygninger. Vi ønskede at enacte en hyper-turist gennem en konceptuel rammesætning for rummet og gennem smartphonen som medie, hvorigennem dets egen iscenesættelse iscenesatte turismekulturen. Gennem smartphonen opsatte vi et spil som en konceptuel ramme for Markuspladsen, hvor elever i hold konkurrerede mod hinanden om at løse opgaver på tid. Spillet udspillede sig gennem messenger-appen, hvorfor mindst én fra gruppen måtte have internetadgang. Over messenger sendte vi billeder og opgaver, som henholdsvis viste eller beskrev hvad holdene skulle tage billeder af og sende retur. Kravene for billederne var, at de skulle tages fra samme vinkel, som dem vi sendte ud, og at mindst to holdmedlemmer skulle være på billedet. Det hold som overholdt dette og som hurtigt sendte et billede retur fik point.
Pointen med spillet var at konstruere turismens adfærd strukturelt og skabe en rumlig betydningsdannelse. Spillet foreslog en måde at se og være i rummet på. På den ene side iscenesætte spillet ikonoklasme og på den anden side gjorde spillet opmærksom på rummets materialer og dets sociale indhold.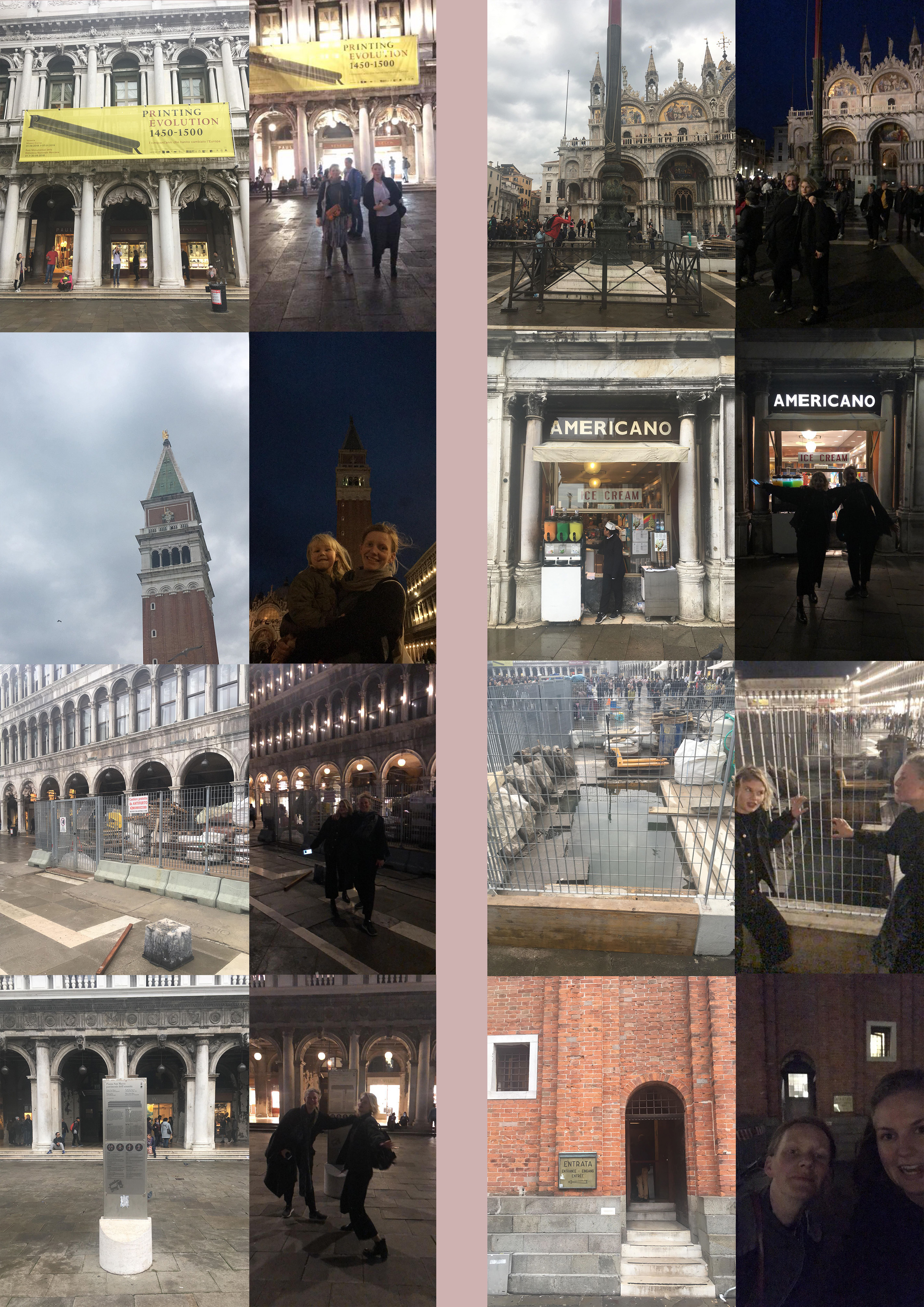 Tag et billede af et selfie-par
Tag et billede af en politimand
Tag et billede af en handel
Tag et billede af en bomber-jacket
Tag et billede af noget porøst
Tag et billede af en passage
Tag et billede af noget ovalt
Tag et billede af et smykke
Tag et billede af et kærligt øjeblik
Tag et billede af noget på hjul
Tag et billede af nogle planter
Tag et billede af et kamera (må ikke være en smartphone)
Tag et billede af noget træ
Tag et billede af en Venedig-souvenir
Tag et billede af en pensionist med hat